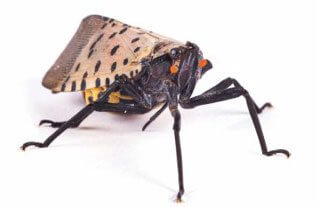 What is it?
The Spotted Lanternfly is an invasive pest from Asia that can destroy many crops and hardwoods. As of March 2020, it is currently found in 26 counties across Pennsylvania.
Find answers to commonly asked questions about the spotted lanternfly.
Mythbusters—what the Spotted Lanternfly won't do.
While the spotted lanternfly is a nuicance and does pose a danger to Pennsylvania's agricultural industry, there is no need to panic. Here are some things that the spotted lanternfly won't do.
Bite or sting
Destroy wooden structures such as houses or sheds
Hurt or poison children or pets
Damage produce from within a quarantine zone. SLF feeds on the plant itself, not the fruit a plant produces.
For more information about managing the spotted lanternfly population, visit the Penn State Extension website.
LCCD blogposts
Check out our latest posts about the spotted lanternfly.
How business owners can transform the spotted lanternfly landscape